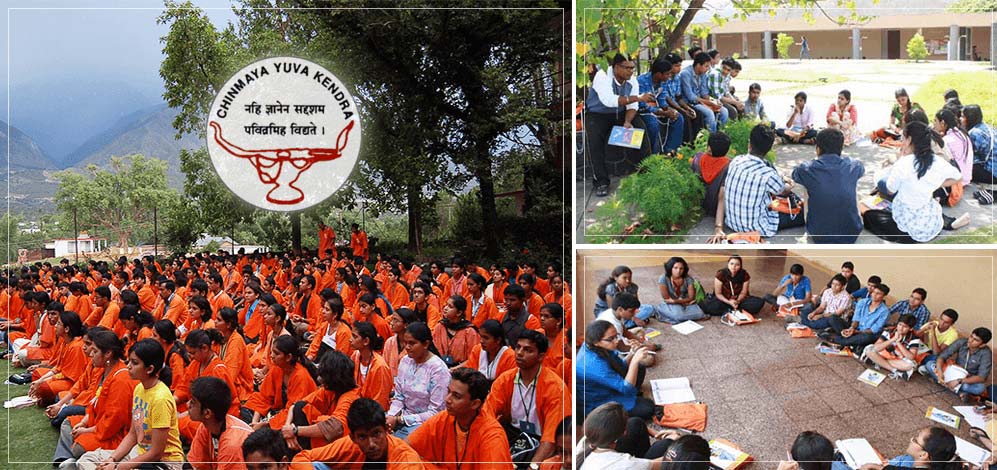 Chinmaya Yuva Kendra


You Chyks are now our only hope. When the younger generation comes to feel inspired by a programme of revival, it gathers momentum and floods the hearts of that generation with a new spirit of courage and goodwill. - Swami Chinmayananda
Introduction

Chinmaya Yuva Kendra (CHYK) is a global youth wing of Chinmaya Mission. It aims to empower youth with the vision, values and dynamism for success in all fields. CHYK conducts weekly classes where young people are made aware of their potential through the study of scriptures. CHYK also organises and executes cultural, social and spiritual programmes.
Vision

CHYK Magazine

Activities

Contact CHYK

Spirit of CHYK
CHYK Motto: Harnessing Youth Potential through Dynamic Spirituality
"Youth is a stage in human development when the personality is bursting with energy, enthusiasm and dynamism. This is also a phase in life when receptivity and retentivity are at the optimum. What they require is a clear vision of a goal in life and exercises for the cultivation of the right values of life to enable them to mould their personality and harness their inner resources along constructive channels. This systematic preparation alone can equip the youth to face the challenges of life with a smile."
– Swami Chinmayananda
"The vision of CHYK is to empower the youth with a holistic vision and values of life so that they live their life successfully in every respect."
– Swami Tejomayananda
The youth have always been symbols of bountiful energy, ambitious dynamism, inspiring creativity, and dauntless courage. To uplift themselves and their world, to awaken harmony within and without, to apply their vibrant energy for the betterment of society, they only require a noble cause, a high ideal, a sense of deep devotion, and the right channels of service.
CHYK aims to groom leaders and manifest their potential through study, reflections and multifarious hobbies. With the underlying message of Self Knowledge, it strives to blend philosophical concepts with practical activities. With the support of values and knowledge, CHYK focuses on making every effort and attempt a work of excellence.
CHYK Mission Statement: To empower youth with the vision, values and dynamism for success in all fields.
Swami Chinmayananda founded CHYK with the vision of helping youth realize their latent and infinite inner potential. He insisted on knowledge through application, calling it 'Spirituality in Action' or 'Dynamic Spirituality.' Based on his powerful inspiration and leadership, CHYK creates a conducive atmosphere for learning, guides members in their spiritual studies and growth, and encourages them to test the logic and practicality of Vedantic scriptural teachings through applications in daily life.
Know that Yuva Kendra is the bow, and a pure mind is the sharpened arrow. Your goal should be (knowledge of) the Self and welfare of the world. Like the arrow (that hits its target), may you become one with the goal.
"Chinmaya Yuva Kendra, like the bow, is the means and not the end. The sharpened arrow symbolises purity of mind and clarity of vision. While serving the world, one should (first) take care of one's self-unfoldment. After you free yourself by yourself (attain Self-realization), do not forget the goal that should be reached. May you be one with the goal to serve one and all."
– Swami Tejomayananda