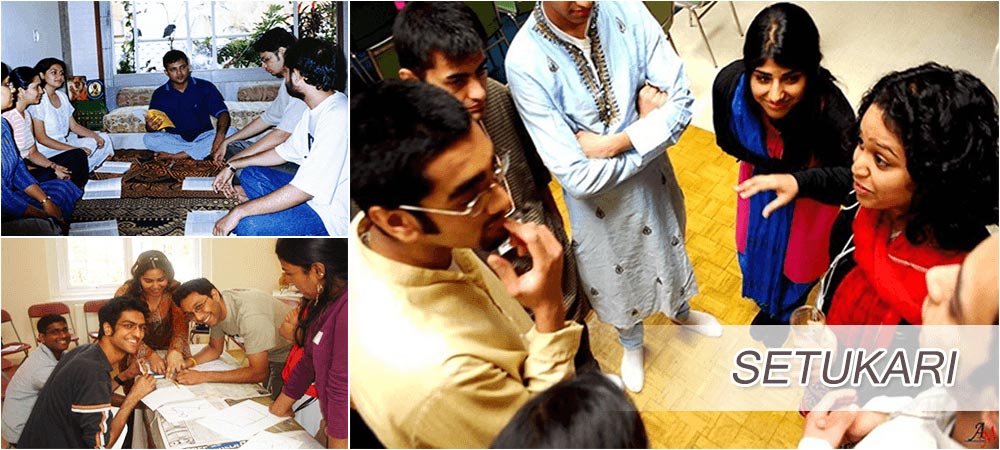 Setukari


Sit up! Awake! Prove yourself worthy of your glorious heritage. Unlock the doors of the wonderful treasure house. Make India regain her great spiritual empire.
- Swami Chinmayananda
Introduction
At Chinmaya Mission, children are introduced to spiritual culture through Bala Vihar. The next leg is an exceptionally large wing of the Mission – Chinmaya Yuva Kendra, which is dedicated to harnessing the vibrant and dynamic potential of youthful energy. A Yuva Kendra member is typically 16 to 28 years of age.
Swami Tejomayananda observed the need for a group of young adults that serve as a bridge between the Yuva Kendra and mature age devotees of Chinmaya Mission. At around 28 years, an individual is usually found hustling the act of outgrowing youthful energy and ideas into practical mainstream life realities.
Study groups and regular programs at local Mission centres serve as a ready platform where the Setukaris (25-45 years) will be at work. Setukari has been a recent addition to Chinmaya Mission's grass-root activities with the role of 'building bonds' between the young and the old in these fast-changing times. Initiated at the World Worker's Conference held in December 2012, camps and other activities for this age group are already planned and some even implemented.
A sound knowledge of Chinmaya Mission's organisational culture will enable the Setukari to address concerns and queries arising due to a substantial age gap among the various members and devotees of Chinmaya Mission.